Boys State Program
Each year we sponsor two Junior High School students to attend a week long program where they participate in and learn the principles of how our government functions. Click here for more information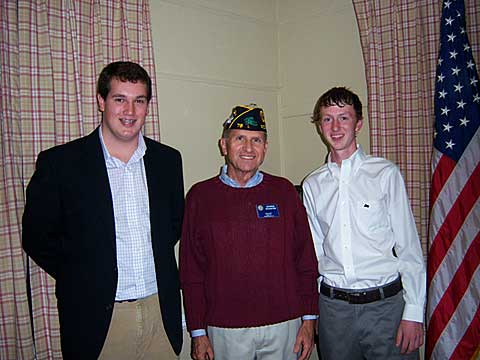 Pictured above are Colin Fitzgibbon, George Schuster (Boys State Chairman) and Kevin Ford.
Colin and Kevin were the two juniors selected by the faculty of Ridgefield High School to attend the American Legion's Boys State program sponsored by Post 78.
Boys State was founded in 1935 to counter the socialism-inspired Young Pioneer Camps. At Boys State, participants learn the rights, privileges and responsibilities of franchised citizens. It is a week long program that centers on the structure of city, county and state governments which are operated by students elected to various offices. Boys State activities include legislative sessions, court proceedings, law-enforcement presentations, assemblies and recreational programs. Post 78 was honored to sponsor them. The students represented the Post by their extraordinary enthusiasm and participation in the program. Please see their biographies below:
COLIN FITZGIBBON - A senior at Ridgefield High School, Colin holds the position of Student Government Senator. Senators support the Class President and Vice President in promoting school spirit and making decisions on behalf of the student body. As a senator, Colin was involved in the planning of a school function where $5,000 was raised on behalf of Cody Dingee, a handicapped Ridgefield resident. In addition, Colin is a musician. He plays the trumpet in the Jazz Band, and is a member of the RHS Marching Band. Colin is one of two Drum Majors who decide the plan for the half time show and the music to be played. Colin's sport is Track and Field where he is Captain of his team. He specializes in shot put, javelin, and discus. Colin is making an early decision application to the University of Chicago where he wants to study pre-law, history, and join their Navy ROTC program. He also favors RICE Univ. and the Univ. of Southern California as well. Colin has aspirations for a career in corporate law.
KEVIN FORD – A senior at Ridgefield High School, Kevin is Co-President of a program called "Model UN" where RHS Students meet each week and discuss global issues. Kevin has traveled twice to Washington, DC to attend the National Model UN Conference held at George Washington University. This year the conference will be held at Brown University. Kevin is a member of the National Honor Society and Captain of the Cross Country Team specializing in long distance running. He is currently in the process of readying his applications for college. Kevin has aspirations to attend Northwestern University, Duke University or Dartmouth.